Wastewater treatment station Biobox Pro (6-200 cub.m/day)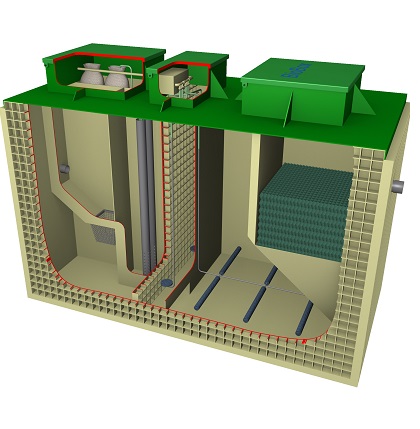 The local wastewater treatment plant BioboxPro is one of the most modern on the Ukrainian market. These stations are used for sewage treatment of cottage towns, restaurant-hotel complexes, recreation centers, administrative and industrial buildings. Thanks to the use of the most advanced patented technologies for the treatment of wastewater and materials, the highest and most stable cleaning performance is achieved under all operating conditions.
Thanks to the powerful and hermetic casing made of polypropylene with a thickness of 10-20 mm, any mounting options are possible without additional concreting (under roads, in high groundwater, etc.). After the additional module, it can be used for irrigation, circulating water supply, and also to be diverted to drinking and fish water facilities.
BioboxPro local wastewater treatment plants consist of one or more polypropylene tanks, which can be assembled depending on the treatment capacity, the requirements of the Customer and the available area. Technological equipment (blowers, control panels, automation, sludge dewatering unit, disinfection unit) can be installed both in a separate underground box and in a factory-built above-ground container unit (depending on the sewage treatment capacity). This allows to significantly reduce the level of noise and unpleasant odors from the treatment plant, in turn, allows to reduce the sanitary protection zone.
Video